Many of you know that my husband works for the American Cancer Society and that I am part of an organization called "Think Pink". I am also the co-captian for a Relay for LIfe team through my church, Heart of the Shepherd.
This week I received a call from a client. I have been photographing this client and her family pretty much from the beginning of my photography career. In fact, I think they may have been the first family I photographed that wasn't a friend or family member.
Anyway, She called this week to tell me that February 13th she found out she had breast cancer. My heart immediately sunk when she told me this. She went on to tell me that she had a double mastectomy and, praise the Lord, they got all the cancer and she does not need to go through Chemo. She told me on the phone, "The mastectomy is a small price to pay."
She also went on to tell me that the photographs I have taken of her and her family have come to mean SO much more to her. They are not just pictures, they are priceless memories.
I truly love my job because my clients quickly become my friends. It makes it hard to hear news like this, but it makes me proud that my husband and I are part of such great organizations who give back to people going through the aweful trials of cancer.
She asked me to design a card that she will be able to send out to friends and family to explain what she has been going through. Here is what I came up with: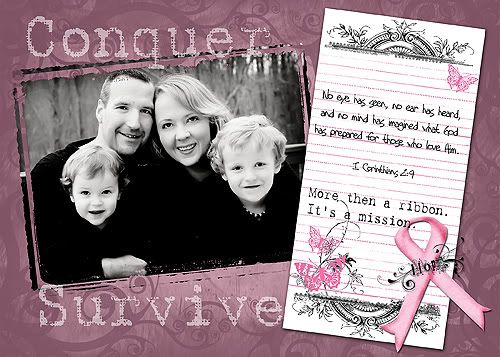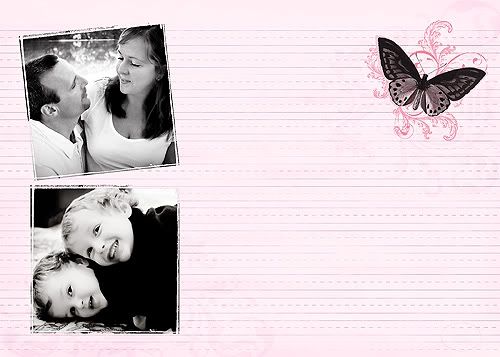 I have several HUGE favors to ask of everyone that reads this blog.
(1) I need you to ask 5 women over the age of 40 if they have had their mammograms
(2) I need to you post a comment on my blog that you have done this. If we can each touch the lives of 5 women, imagine how many lives that could save!
(3) Last but not least, if you are a woman: (1) Preform a self breast exam (2) get scheduled for you annual exam (3) If you are over 40 schedule a mammogram
THANKS!